Our services
What we do
Magnolia Solutions provides management functions as a service and management consulting through continuous partnerships and project-oriented collaboration. Depending on your need, we take overall responsibility, a supplementing role, or are available by request in jointly specified areas of co-operation. Value co-creation, customer orientation, business foresight, and technology insight lie at the core of what we do.
 
Management Functions as a Service™ – MFaaS
By management functions, we mean the managerial dimension and capability of an operational area or function within an organization. Management functions as a service, then provides you with a partner in Magnolia Solutions who is experienced in solving the problems business managers face. Through Management Functions as a Service (MFaaS), you can professionally and seamlessly outsource a narrow or broad part of your management needs.
For whom
We aim at building long-term partnerships and relationships with our customers, which are comprised of small- and medium-sized (SME) companies, as well as large corporations. Magnolia Solutions is for those situations where you encounter the need for competency and reliability in project and process management, involving the complete life span from analysis, planning, execution, reporting, evaluation and follow-up.


Case examples:
Customer relationship management, account management, after sales management.
Product and service concept piloting in the customer context.
Product and service concept testing with customers.
Market validation.
Mid- to large-scale information technology system implementation projects.
IT system B2B training services.
Business reporting and data analysis consulting.
Something else? – Let us get in touch and initiate discussions.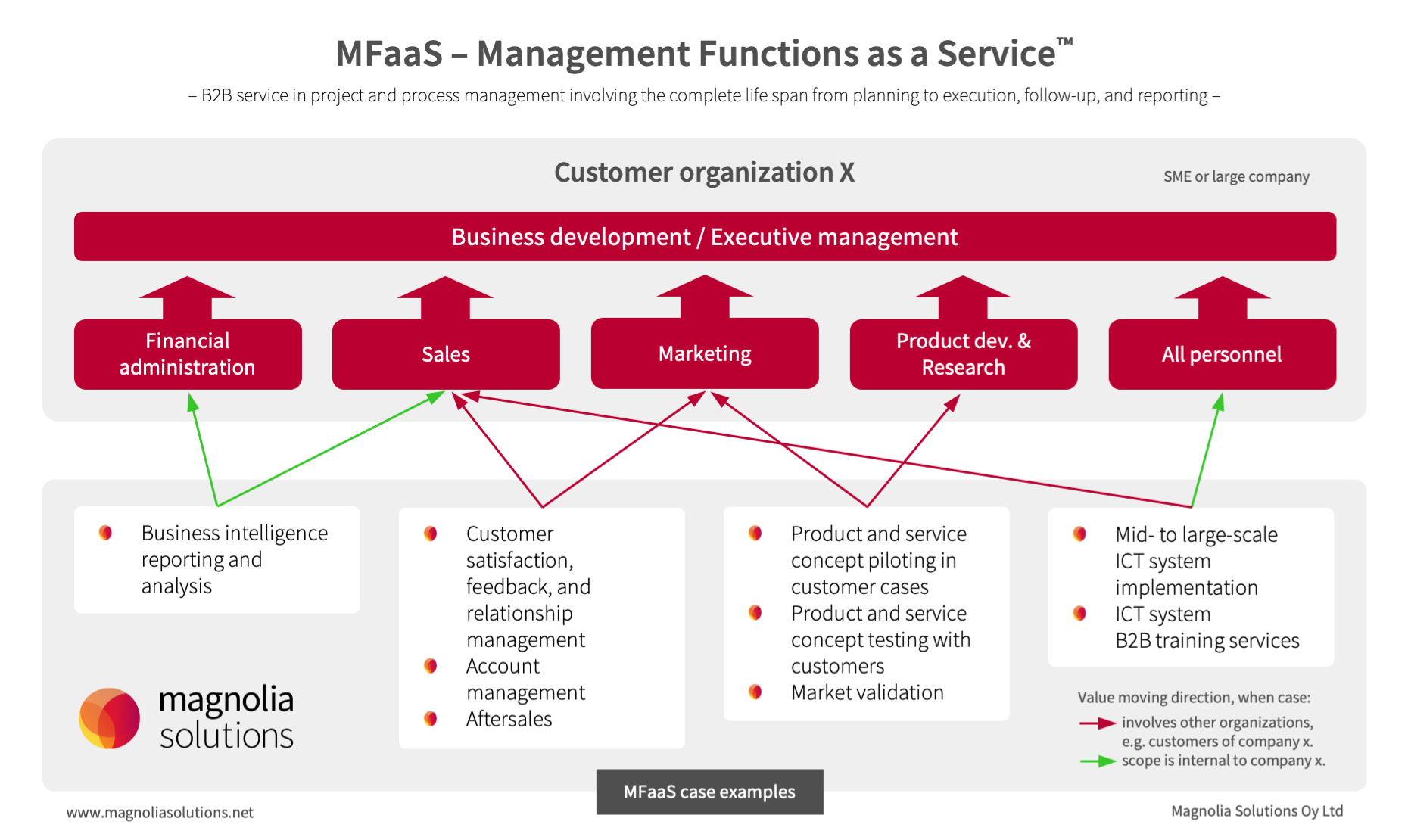 Read more about MFaaS case examples here.
Why Magnolia Solutions?
Magnolia Solutions has over 15 years of expertise in project and process management. Our core areas of expertise derive from the fields of business administration, management consulting and information technology. Our work is steered by the aim of constant process improvement and life-long learning.
We believe that we can bring our customers value as a:
What
&
how?
Professional, reliable, and flexible partner to take care of an area/issue requiring management.
Long-term partner or project-oriented collaboration.
Capability in cases requiring complete managerial ownership or management support.
Customized management resource available upon request.
Source for outsourced management functions for your organization.
Benefits
Utilize upon need and/or according to plan–available when needed, costs forecasted.
Context-specific collaboration partner tailored to your needs–offers long-term and back-up readiness.
Safe and low risk–no risk of being stuck with lengthy or costly (employee) contracts.
Flexibility–an agile solution geared towards changing needs, resources, schedules, and circumstances.
Customer orientation–commitment to excellence in delivery and continuous learning.
The next step
Magnolia Solutions is equally comfortable taking the managerial lead or occupying a supporting role in the activities of your organization. Let us initiate co-operation.


Is your company looking to intensify product development or commercialization efforts of a product or service concept?
Is your company aiming to, or in the midst of, a renewal of products, services, or value creating-processes?
Does your company have a strategic key customer, which should be followed-up with and listened to more carefully, and also served as a priority customer for the extra mile in the long run?
Is your company faced with a need for managerial input in external or internal cases, such as in projects requiring stakeholder communication, process management, or overall accountability?
Is your organization in need of a long-term partner who can, upon request, deliver specifically customized tasks and services to your customers?
Are you facing the need to develop your business reporting—with insights based on initial data analysis?
Do none of the above describe your situation, but you are willing to inspect possibilities for co-creating value in partnership, in the long run, in the future?  

Magnolia Solutions is ready to help you out in partnership. With guaranteed satisfaction of delivery and leverage. Contact us to book a meeting and initiate discussions.
Case examples
Read more about Management Functions as a Service™ case examples here.